Even geduld
Home
Verkennen
Over
Disclaimer
Mijn Account
Winkelmandje
Checkout
KLEDING
ACCESSOIRES
SCHOENEN
01161
AIPKE 01161 02 7800
109
109
Xandres, 01161, AIPKE 01161 02 7800, Blouse, 34,36,38,40,42,44,46,48
Details
7800 MOSS
7800 MOSS}
65.0% viscose (=rayon), 35.0% polyester
65.0% viscose, 35.0% polyester
65.0% viscose, 35.0% polyester
DW36
Licht bloesje in een soepele stof met halflange wijde mouwen. De mouwen verdoezelen bredere bovenarmen en ogen uiterst elegant. De blouse heeft een ronde hals en wijde pasvorm. Combineer de kakigroene blouse stijlvol met een geklede broek met chevronmotief in kaki en ecru.
Blouse légère confectionnée dans un tissu souple et dotée de larges manche mi-longues. Les manches, extrêmement élégantes, dissimulent les bras un peu ronds. La blouse arbore une encolure ronde et une coupe ample. Combinez cette blouse vert kaki avec un pantalon habillé arborant un motif à chevrons dans des tons kaki et écru pour créer un ensemble élégant.
A light blouse in a soft fabric with wide, mid-length sleeves. The elegant sleeves conceal larger upper arms. The blouse has a round neck and a wide fit. Combine the khaki blouse stylishly with the smart trousers with chevron pattern in khaki and ecru.
Kaki blouse met ronde hals
Blouse kaki à encolure ronde
Khaki blouse with round neck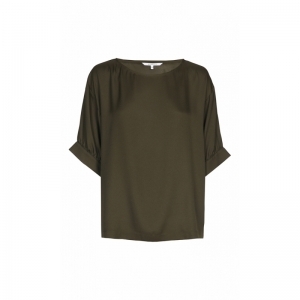 Xandres
xandres

Details
Menenstraat 32
B-8900 Ieper
webshop@toppio.be
Toppio
+32 57 20 07 52
www.toppio.be