Even geduld
Home
Verkennen
Over
Disclaimer
Mijn Account
Winkelmandje
Checkout
KLEDING
ACCESSOIRES
SCHOENEN
01199
PHOCAS-PLAT-WI21 01199 01 0830
149
149
Xandres, 01199, PHOCAS-PLAT-WI21 01199 01 0830, Broek, 34,36,38,40,42,44,46,48
Details
0830 CHALK
0830 CHALK}
82.0% acetaat, 18.0% polyester
82.0% acétate, 18.0% polyester
82.0% acetate, 18.0% polyester
DW36
Feestelijke broek met een wide fit. De wijde broekspijpen in een lichte crêpe stof vallen elegant om de benen. De broek sluit mooi aan in de taille dankzij de elastische band op de rug. De broek sluit met een blinde rits opzij. Combineer mooi met een bloesje in dezelfde stof.
Pantalon festif à coupe large. Les jambes larges confectionnées dans un crêpe léger tombent avec élégance. Ce pantalon épouse parfaitement la taille grâce à la bande élastique dans le dos. Il se ferme latéralement à l'aide d'une fermeture à glissière invisible. Il se combinera parfaitement avec une blouse de la même matière.
Festive trousers with a wide fit. The wide trouser legs in a light crepe fabric drape elegantly around the legs. The trousers fit the waist nicely thanks to the elastic waistband on the back. The trousers have a blind zip on the side. Pairs elegantly with a blouse in the same fabric.
Lichtgrijze wijde broek
Pantalon large gris clair
Wide light grey trousers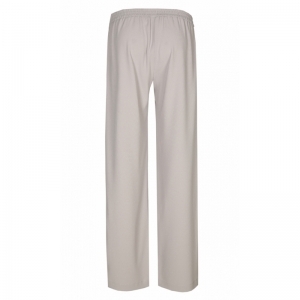 Xandres
xandres

Details
Menenstraat 32
B-8900 Ieper
webshop@toppio.be
Toppio
+32 57 20 07 52
www.toppio.be