Even geduld
Home
Verkennen
Over
Disclaimer
Mijn Account
Winkelmandje
Checkout
KLEDING
ACCESSOIRES
SCHOENEN
01635
MAAIKEN 01635 01 0621
199
199
Xandres, 01635, MAAIKEN 01635 01 0621, Mantel, 34,36,38,40,42,44,46,48
Details
0621 SHELL
0621 SHELL}
64.0% acryl, 36.0% polyamide/nylon
64.0% acrylique, 36.0% polyamide/nylon
64.0% acrylic, 36.0% polyamide/nylon
100010
Uiterst zachte mantel in een tijdloze schelptint. De mantel is kraagloos maar heeft wel een verfijnd, afneembaar sjaaltje dat je aan de kraag kan vastknopen. De halflange winterjas sluit met drukknopen en heeft twee steekzakken. De schelptint is mooi in combinatie met de bruine en beige tinten die dit najaar domineren.
Manteau extrêmement doux dans un ton coquillage intemporel. Ce manteau ne possède pas de col, mais il est doté d'une écharpe raffinée et amovible que vous pouvez attacher au col. Cette veste d'hiver mi-longue se ferme à l'aide de boutons à pression et comporte deux poches fendues. Le ton coquillage se combine parfaitement avec les teintes brune et beige qui constituent les tendances dominantes de cet automne.
Extremely soft coat in a timeless shell colour. The coat is collarless but has an elegant, detachable scarf that you can tie to the collar. The half-length winter coat closes with press studs and has two side pockets. The shell tone is beautiful in combination with the brown and beige tones that dominate this autumn.
Halflange ecru mantel
Manteau mi-long écru
Medium length ecru coat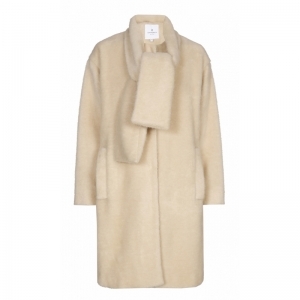 Xandres
xandres

Details
Menenstraat 32
B-8900 Ieper
webshop@toppio.be
Toppio
+32 57 20 07 52
www.toppio.be