Even geduld
Home
Verkennen
Over
Disclaimer
Mijn Account
Winkelmandje
Checkout
KLEDING
ACCESSOIRES
SCHOENEN
01730
PUK-WI21 01730 01 7801
159
159
Xandres, 01730, PUK-WI21 01730 01 7801, Broek, 34,36,38,40,42,44,46,48
Details
7801 MOSS
7801 MOSS}
53.0% Gerecycleerde Polyester, 44.0% wol, 3.0% elastaan
53.0% polyester recyclé, 44.0% laine, 3.0% elasthanne
53.0% recycled polyester, 44.0% wool, 3.0% elastane
DH05
Deze kakigroene broek heeft rechte, wijde broekspijpen met een ingestreken beenplooi. De stof is een zachte, aangename mix van wol en andere vezels met een tikje stretch erin. De broek heeft twee makkelijke steekzakken. Combineer deze kaki broek chic met een zilvergrijs zijden hemd en kaki debardeur.
Ce pantalon vert kaki est doté de jambes droites larges arborant un pli marqué. La matière est composée d'un doux mélange de laine et d'autres fibres légèrement extensibles qui le rendent très agréable à porter. Le pantalon comporte deux poches fendues pratiques. Portez ce pantalon kaki avec une chemise en soie argentée et un débardeur kaki pour créer un aspect chic.
These khaki trousers have straight, wide legs with a pressed crease. The fabric is a soft, pleasant blend of wool and other fibres with a touch of stretch in it. The trousers have two handy side pockets. Dress up the khaki trousers with a silver-grey silk shirt and khaki sweater vest.
Geklede kaki broek
Pantalon kaki habillé
Smart khaki trousers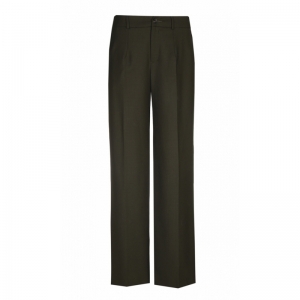 Xandres
xandres

Details
Menenstraat 32
B-8900 Ieper
webshop@toppio.be
Toppio
+32 57 20 07 52
www.toppio.be