Even geduld
Home
Verkennen
Over
Disclaimer
Mijn Account
Winkelmandje
Checkout
KLEDING
ACCESSOIRES
SCHOENEN
04155
PYVINA-TB76-VW24 04155 02 0436
139
139
Xandres, 04155, PYVINA-TB76-VW24 04155 02 0436, Broek, 34,36,38,40,42,44,46,48
Details
0436 ORCHID
0436 ORCHID}
68.0% polyester, 3.0% elastaan, 29.0% viscose (=rayon)
68.0% polyester, 3.0% elasthanne, 29.0% viscose
68.0% polyester, 3.0% elastane, 29.0% viscose
DW36
Elegante broek met een fijn ruitenmotief in roze, wit, groen, bordeaux. De broek is gemaakt in een comfortabele stretchstof en heeft rechte broekspijpen. De twee handige steekzakken opzij en het sierzakje op de bips maken dit model af. Mooi in combinatie met een witte blouse en roze debardeur.
Élégant pantalon arborant un subtil motif à carreaux dans des tons rose, blanc, vert, bordeaux. Ce pantalon, doté de jambes droites, est confectionné dans un confortable tissu extensible. Les deux poches fendues très pratiques sur le côté et la poche décorative sur les fesses complètent ce modèle. Il se combinera parfaitement avec une blouse blanche et un débardeur rose.
Elegant trousers with a delicate check pattern in pink, white, green, burgundy. The trousers are made of a comfortable stretch fabric and have straight legs. There are two handy side pockets and a decorative pocket on the back. Beautiful with a white blouse and a pink sweater vest.
Geruite broek in roze, groen, bordeaux
Pantalon à carreaux dans des tons rose, vert, bordeaux
Checked trousers in pink, green and burgundy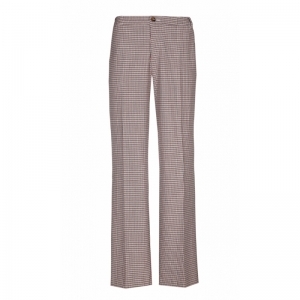 Xandres
xandres

Details
Menenstraat 32
B-8900 Ieper
webshop@toppio.be
Toppio
+32 57 20 07 52
www.toppio.be