Even geduld
Home
Verkennen
Over
Disclaimer
Mijn Account
Winkelmandje
Checkout
KLEDING
ACCESSOIRES
SCHOENEN
98366
ARZU 98366 01 8096
149
149
Xandres, 98366, ARZU 98366 01 8096, Pull, XS,S,M,L,XL
Details
8096 SESAME
8096 SESAME}
60.0% wol, 5.0% kasjmier, 35.0% polyamide/nylon
60.0% laine, 5.0% cachemire, 35.0% polyamide/nylon
60.0% wool, 5.0% cashmere, 35.0% polyamide/nylon
100051
Zachte knitwear in een mix van wol, cashmere en viscose. Deze pull heeft een ronde hals. Op de voorzijde en mouwen siert een fijn ruitjespatroon in roze, wit, oranje en bordeaux de knitwear. Deze tijdloze pull kan je eindeloos mixen en matchen.
Tricot doux confectionné dans un mélange de laine, de cachemire et de viscose. Ce pull est doté d'un col rond. À l'avant et sur les manches, la maille est agrémentée d'un subtil motif à carreaux dans des tons rose, blanc, orange et bordeaux. Ce pull intemporel se combine à l'infini.
Soft knitwear in a blend of wool, cashmere and viscose. The pullover has a round neck. The front and the sleeves are decorated with a delicate checked pattern in pink, white, orange and burgundy. You can mix and match this pullover endlessly.
Beige pullover met ruitjespatroon
Pull beige à carreaux
Beige pullover with checked pattern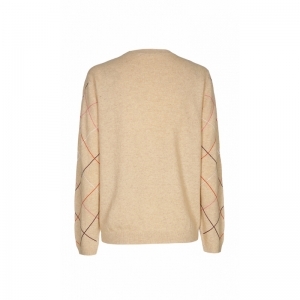 Xandres
xandres

Details
Menenstraat 32
B-8900 Ieper
webshop@toppio.be
Toppio
+32 57 20 07 52
www.toppio.be