Even geduld
Home
Verkennen
Over
Disclaimer
Mijn Account
Winkelmandje
Checkout
KLEDING
ACCESSOIRES
SCHOENEN
98367
ANNESKA 98367 01 0434
119
119
Xandres, 98367, ANNESKA 98367 01 0434, Pull, XS,S,M,L,XL
Details
0434 ORCHID
0434 ORCHID}
8.0% mohair, 42.0% acryl, 30.0% polyamide/nylon, 20.0% wol
8.0% mohair, 42.0% acrylique, 30.0% polyamide/nylon, 20.0% laine
8.0% mohair, 42.0% acrylic, 30.0% polyamide/nylon, 20.0% wool
100051
Wollen pull in een zachte roze tint. Knitwear (met o.m. mohair) van topkwaliteit! Het siermotiefje in het breisel geeft een extra verfijnde twist. De trui heeft een nonchalante, wijde fit en ronde hals. Mix en match de roze pull met de bijpassende wollen sjaal.
Pull en laine dans un doux ton rose. La maille (qui contient notamment du mohair) est d'une qualité exceptionnelle ! Le motif décoratif intégré dans le tricot confère une touche de raffinement supplémentaire à ce pull. Le pull est doté d'une coupe ample décontractée et d'une encolure ronde. Combinez ce pull rose avec l'écharpe en laine assortie.
Woollen pullover in a soft shade of pink. It is knitted in a high-quality wool blend that includes mohair. The decorative pattern adds a touch of elegance to the knitwear. The jumper has a casual, wide fit and round neck. Mix and match the pink pullover with the matching wool scarf.
Roze gebreide trui
Pull tricoté rose
Pink knitted jumper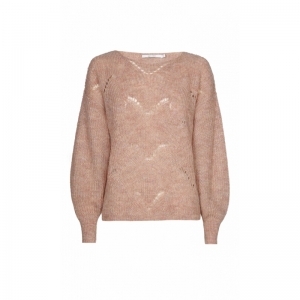 Xandres
xandres

Details
Menenstraat 32
B-8900 Ieper
webshop@toppio.be
Toppio
+32 57 20 07 52
www.toppio.be