Even geduld
Home
Verkennen
Over
Disclaimer
Mijn Account
Winkelmandje
Checkout
KLEDING
ACCESSOIRES
SCHOENEN
98367
ANISIA 98367 01 0766
139
139
Xandres, 98367, ANISIA 98367 01 0766, Pull, XS,S,M,L,XL
Details
0766 EARTH
0766 EARTH}
8.0% mohair, 42.0% acryl, 30.0% polyamide/nylon, 20.0% wol
8.0% mohair, 42.0% acrylique, 30.0% polyamide/nylon, 20.0% laine
8.0% mohair, 42.0% acrylic, 30.0% polyamide/nylon, 20.0% wool
100051
Gebreide trui met een ronde hals en lange mouwen. De ecru pull heeft een ingebreid, bruin motief. De knitwear is een kwaliteitsvolle, warme en toch lichte wolmix: heerlijk om te dragen op koude najaarsdagen! Mooi in combinatie met een bruine, beige of ecru broek.
Le pull tricoté à encolure ronde et manches longues. Ce pull écru arbore un motif brun intégré dans la maille. Le tricot est confectionné dans un mélange de laine haute qualité, à la fois chaud et léger : extrêmement agréable à porter lors des froides journées d'automne. Il se combinera parfaitement avec un pantalon brun, beige ou écru.
A knitted pullover with a round neck and long sleeves. The ecru pullover has a brown knitted pattern. The knitwear is a high-quality, warm yet light wool blend: great to wear on chilly autumn days! It combines well with brown, beige or ecru trousers.
Ecru pullover met bruin motief
Pull beige avec motif brun
Ecru pullover with brown pattern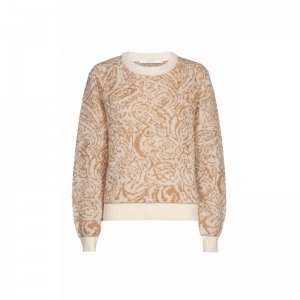 Xandres
xandres

Details
Menenstraat 32
B-8900 Ieper
webshop@toppio.be
Toppio
+32 57 20 07 52
www.toppio.be