Even geduld
Home
Verkennen
Over
Disclaimer
Mijn Account
Winkelmandje
Checkout
KLEDING
ACCESSOIRES
SCHOENEN
98329
BUCK 98329 01 6971
119
119
Xandres, 98329, BUCK 98329 01 6971, Cardigan, XS,S,M,L,XL
Details
6971 PEARL
6971 PEARL}
7.0% stretch polyester, 46.0% acryl, 28.0% mohair, 19.0% polyamide/nylon
7.0% polyester stretch, 46.0% acrylique, 28.0% mohair, 19.0% polyamide/nylon
7.0% stretch polyester, 46.0% acrylic, 28.0% mohair, 19.0% polyamide/nylon
100010
Dé must-have van dit najaar? De debardeur! Deze mouwloze gebreide pull heeft een elegante V-hals. Combineer de debardeur vrouwelijk met een lange jurk of draag hem bij een geklede broek en chique blouse met satijnglans. Liever casual? Dan combineer je de debardeur met een loose fit jeans.
L'article incontournable de cet automne ? Le débardeur ! Ce pull tricoté sans manches est doté d'un élégant col en V. Portez ce débardeur avec une robe longue pour un style féminin, ou combinez-le avec un pantalon habillé et une blouse satinée chic. Vous préférez un style plus décontracté ? Dans ce cas, portez le débardeur avec un jean à coupe large.
The must-have this winter is the sweater vest! This sleeveless knitted pullover has an elegant V-neck. Try the sweater vest with a long dress or with smart trousers and a blouse with a satin sheen. For those who want something more casual, combine the sweater vest with loose-fit jeans.
Ecru debardeur
Débardeur écru
Ecru sweater vest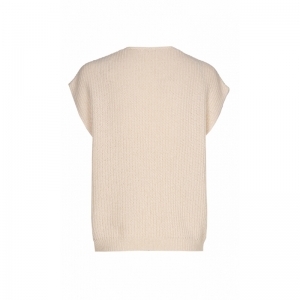 Xandres
xandres

Details
Menenstraat 32
B-8900 Ieper
webshop@toppio.be
Toppio
+32 57 20 07 52
www.toppio.be