Even geduld
Home
Verkennen
Over
Disclaimer
Mijn Account
Winkelmandje
Checkout
KLEDING
ACCESSOIRES
SCHOENEN
98332
BIBIAN 98332 01 6971
149
149
Xandres, 98332, BIBIAN 98332 01 6971, Pull, XS,S,M,L,XL
Details
6971 PEARL
6971 PEARL}
38.0% acryl, 34.0% alpaca, 15.0% polyamide/nylon, 13.0% scheerwol
38.0% acrylique, 34.0% alpaga, 15.0% polyamide/nylon, 13.0% laine vierge
38.0% acrylic, 34.0% alpaca, 15.0% polyamide/nylon, 13.0% virgin wool
100024
Knitwear in een kwaliteitsvolle, zachte wolmix met o.m. alpaca. De trui heeft een ronde hals en 7/8 mouwen met een knoopje aan de boord. De mouwen zijn aangenaam wijd. De neutrale pareltint past helemaal in de modetrends van de winter. Combineer de trui met de sjaal in dezelfde knit: winters mooi!
Le tricot est confectionné dans un doux mélange de laines de haute qualité contenant, notamment, de l'alpaga. Le pull est doté d'un col rond et de manches 7/8 dont le bord est muni d'un bouton. Les manches amples sont très agréables à porter. Le ton perle neutre s'accorde parfaitement avec les tendances de l'hiver. Combinez ce pull avec l'écharpe confectionnée dans la même maille : une belle tenue d'hiver !
Knitwear in a high-quality soft wool blend including alpaca. The jumper has a round neck and 7/8 sleeves with a button on the cuff. The sleeves are comfortably wide. The neutral pearl colour is very fashionable this winter. Try the pullover with the scarf in the same knit for a beautiful winter look.
Ecru pull met ronde hals
Pull écru à col rond
Ecru pullover with round neck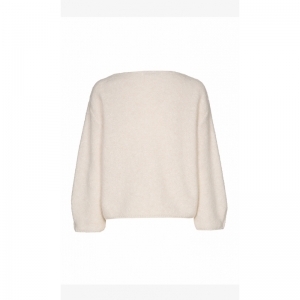 Xandres
xandres

Details
Menenstraat 32
B-8900 Ieper
webshop@toppio.be
Toppio
+32 57 20 07 52
www.toppio.be