Even geduld
Home
Verkennen
Over
Disclaimer
Mijn Account
Winkelmandje
Checkout
KLEDING
ACCESSOIRES
SCHOENEN
98332
BERIAS 98332 01 0851
159
159
Xandres, 98332, BERIAS 98332 01 0851, Cardigan, XS,S,M,L,XL
Details
0851 HERMEZ
0851 HERMEZ}
38.0% acryl, 34.0% alpaca, 15.0% polyamide/nylon, 13.0% scheerwol
38.0% acrylique, 34.0% alpaga, 15.0% polyamide/nylon, 13.0% laine vierge
38.0% acrylic, 34.0% alpaca, 15.0% polyamide/nylon, 13.0% virgin wool
100024
Halflange, rode cardigan in een zachte wolmix met o.m. alpaca en scheerwol. De gebreide vest heeft twee zakken. De rode tint brengt feelgood vibes in je garderobe. Mix en match de felrode kleur mooi met winters bordeaux en bruin.
Cardigan rouge mi-long confectionné dans un doux mélange de laines contenant notamment de l'alpaga et de la laine vierge. Cette pièce en tricot comporte deux poches. La couleur rouge apportera une touche de bonne humeur dans votre garde-robe. Combinez le rouge vif avec des tons d'hiver bordeaux et brun.
Mid-length, red cardigan in a soft wool blend with alpaca and new wool. The knitted cardigan has two pockets. The red hue brings feel-good vibes to your wardrobe. Mix and match the bright red colour nicely with winter colours like burgundy and brown.
Halflange rode gebreide vest
Cardigan rouge mi-long
Mid-length red knitted cardigan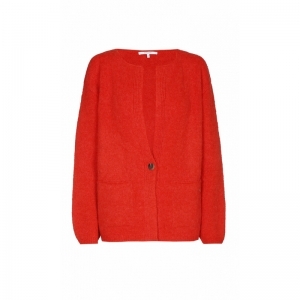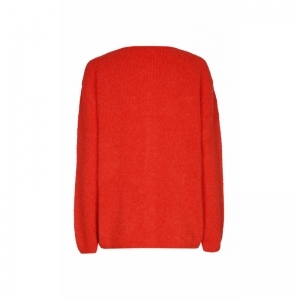 Xandres
xandres

Details
Menenstraat 32
B-8900 Ieper
webshop@toppio.be
Toppio
+32 57 20 07 52
www.toppio.be