Even geduld
Home
Verkennen
Over
Disclaimer
Mijn Account
Winkelmandje
Checkout
KLEDING
ACCESSOIRES
SCHOENEN
98332
BASTIJN 98332 01 0851
99
99
Xandres, 98332, BASTIJN 98332 01 0851, Sjaal, OneSize
Details
0851 HERMEZ
0851 HERMEZ}
38.0% acryl, 34.0% alpaca, 15.0% polyamide/nylon, 13.0% scheerwol
38.0% acrylique, 34.0% alpaga, 15.0% polyamide/nylon, 13.0% laine vierge
38.0% acrylic, 34.0% alpaca, 15.0% polyamide/nylon, 13.0% virgin wool
100112
Warme wollen sjaal in een pittige rode tint. De knitwear met o.m. alpaca voelt heel zacht aan. Combineer de rode sjaal met de wollen trui in dezelfde tint of draag de sjaal als blikvanger op een discrete outfit in bruin, zwart, donkerblauw...
Écharpe en laine bien chaude dans un ton rouge vif. Le tricot qui contient notamment de l'alpaga procure une extrême sensation de douceur. Portez cette écharpe rouge avec le pull en laine du même ton ou avec une tenue discrète dans des tons brun, noir, bleu foncé... pour mettre celle-ci en valeur.
Warm woollen scarf in a lively red. The wool blend includes alpaca and is very soft. Combine the red scarf with the woollen jumper in the same shade or wear it as an eye-catching accessory with a discreet outfit in brown, black or dark blue.
Rode wintersjaal
Écharpe d'hiver rouge
Red winter scarf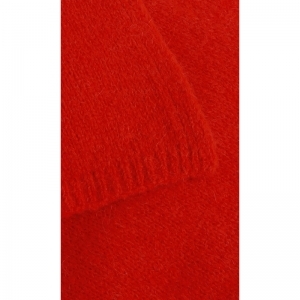 Xandres
xandres

Details
Menenstraat 32
B-8900 Ieper
webshop@toppio.be
Toppio
+32 57 20 07 52
www.toppio.be