Even geduld
Home
Verkennen
Over
Disclaimer
Mijn Account
Winkelmandje
Checkout
KLEDING
ACCESSOIRES
SCHOENEN
98230
HEDIA 98230 01 6970
149
149
Xandres, 98230, HEDIA 98230 01 6970, Pull, XS,S,M,L,XL
Details
6970 PEARL
6970 PEARL}
100.0% scheerwol
100.0% laine vierge
100.0% virgin wool
DW36
Uiterst zachte en kwaliteitsvolle trui in 100% scheerwol. De pull heeft vooraan een ronde hals en op de rug een subtiele V-hals. Aan de lange mouwen zijn er fijne plooien in de knitwear: een elegant detail! De zachte pareltint kan je eindeloos combineren.
Un pull 100 % laine vierge extrêmement doux et de grande qualité. Ce pull est doté d'une encolure ronde à l'avant et d'une subtile échancrure en V dans le dos. La maille des manches longues comporte de fins plis : un détail élégant ! Le doux ton perle se prête à une multitudes de combinaisons.
An extremely soft and high-quality jumper in 100% new wool. The jumper has a round neck at the front and a subtle V-neck at the back. The long sleeves have subtle pleats: an elegant detail! The soft pearl shade can be combined endlessly.
Ecru pullover in scheerwol
Pull écru en laine vierge
Ecru new wool pullover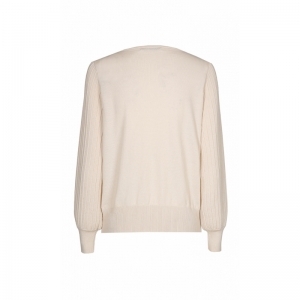 Xandres
xandres

Details
Menenstraat 32
B-8900 Ieper
webshop@toppio.be
Toppio
+32 57 20 07 52
www.toppio.be