Even geduld
Home
Verkennen
Over
Disclaimer
Mijn Account
Winkelmandje
Checkout
KLEDING
ACCESSOIRES
SCHOENEN
98368
TOBIAZ 98368 01 0436
139
139
Xandres, 98368, TOBIAZ 98368 01 0436, Pull, XS,S,M,L,XL
Details
0436 ORCHID
0436 ORCHID}
30.0% acryl, 29.0% polyamide/nylon, 2.0% elastaan, 16.0% katoen, 13.0% wol, 10.0% modal
30.0% acrylique, 29.0% polyamide/nylon, 2.0% elasthanne, 16.0% coton, 13.0% laine, 10.0% modal
30.0% acrylic, 29.0% polyamide/nylon, 2.0% elastane, 16.0% cotton, 13.0% wool, 10.0% modal
DH07
Wintertrui in een zachte wolmix met vlakken in wit, lichtroze en grijsbruin. De pull heeft een ronde hals en lange pofmouwen. Op koude dagen combineer je de trui met de wollen sjaal in dezelfde tinten. Draag de pullover chic bij een geruite pantalon of casual bij een jeans.
Pull d'hiver confectionné dans un doux mélange de laines arborant des empiècements dans des tons blanc, rose clair et gris-brun. Le pull est doté d'une encolure ronde et de longues manches bouffantes. Lorsqu'il fait froid, portez ce pull avec l'écharpe en laine dans les mêmes tons. Combinez le pull avec un pantalon à carreaux pour un aspect chic ou avec un jean pour un style plus décontracté.
A winter jumper in a soft wool blend with white, light pink and grey-brown panels. This pullover has a round neck and long puff sleeves. On cold days, wear the jumper with the woollen scarf in the same shades. Wear with smart checked trousers or casual jeans.
Pull in roze, wit en grijs
Pull dans des tons rose, blanc et gris
Pink, white and grey pullover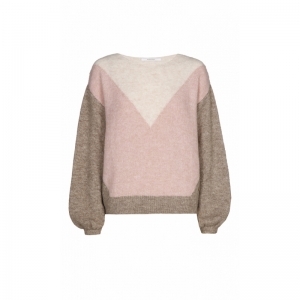 Xandres
xandres

Details
Menenstraat 32
B-8900 Ieper
webshop@toppio.be
Toppio
+32 57 20 07 52
www.toppio.be