Even geduld
Home
Verkennen
Over
Disclaimer
Mijn Account
Winkelmandje
Checkout
KLEDING
ACCESSOIRES
SCHOENEN
09198
KIMAYA 09198 01 0836
219
219
Xandres, 09198, KIMAYA 09198 01 0836, Pull, XS,S,M,L,XL
Details
0836 CHALK
0836 CHALK}
100.0% kasjmier
100.0% cachemire
100.0% cashmere
DH07
Cashmere is een heerlijk materiaal om te dragen: warm in de winter en luchtig in de zomer! Deze cashmere trui heeft een V-hals en lange mouwen. De lichtgrijze kalktint kan je makkelijk combineren. Een tijdloze en veelzijdige pullover!
Le cachemire est une matière très agréable à porter : chaude en hiver et légère en été ! Ce pull en cachemire est doté d'une encolure en V et de manches longues. La ton calcaire gris clair est très facile à combiner. Un pull intemporel et polyvalent !
Cashmere is delightful to wear: warm in winter and light and airy in summer. This cashmere jumper has a V-neck and long sleeves. The chalky light grey colour is easy to mix and match. A versatile pullover that you can wear season after season.
Grijze cashmere pull met V-hals
Pull en cachemire gris à col en V
Grey cashmere pullover with V-neck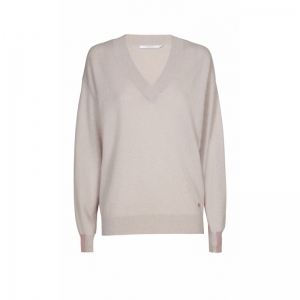 Xandres
xandres

Details
Menenstraat 32
B-8900 Ieper
webshop@toppio.be
Toppio
+32 57 20 07 52
www.toppio.be