Even geduld
Home
Verkennen
Over
Disclaimer
Mijn Account
Winkelmandje
Checkout
KLEDING
ACCESSOIRES
SCHOENEN
07198
HAYAT 07198 01 7805
139
139
Xandres, 07198, HAYAT 07198 01 7805, Blouse, 34,36,38,40,42,44,46,48
Details
7805 MOSS
7805 MOSS}
97.0% viscose (=rayon), 3.0% elastaan
97.0% viscose, 3.0% elasthanne
97.0% viscose, 3.0% elastane
WA07
Blouse met een sierlijke V-split aan de hals en lange mouwen. Een speelse print in groen, blauw zwart en ecru siert de soepele stof met een lichte satijnglans. Dankzij een tikje stretch in de stof zit dit bloesje heel comfortabel.
Blouse dotée d'une élégante échancrure en V au niveau du cou et de manches longues. Le tissu souple légèrement satiné est agrémenté d'un imprimé ludique dans des tons vert, bleu, noir et écru. Cette blouse légèrement extensible est très confortable.
Blouse with an elegant V-slit at the neck and long sleeves. The soft fabric has a light satin sheen and a playful print in green, blue, black and ecru. It fits perfectly thanks to slight stretch in the fabric.
Kakigroene blouse met print
Blouse vert kaki à imprimé
Khaki blouse with print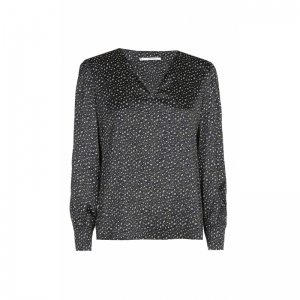 Xandres
xandres

Details
Menenstraat 32
B-8900 Ieper
webshop@toppio.be
Toppio
+32 57 20 07 52
www.toppio.be