Even geduld
Home
Verkennen
Over
Disclaimer
Mijn Account
Winkelmandje
Checkout
KLEDING
ACCESSOIRES
SCHOENEN
07253
HARMA 07253 01 9996
139
139
Xandres, 07253, HARMA 07253 01 9996, Blouse, 34,36,38,40,42,44,46,48
Details
9996 MULTI COLO
9996 MULTI COLO}
75.0% katoen, 4.0% elastaan, 21.0% polyamide/nylon
75.0% coton, 4.0% elasthanne, 21.0% polyamide/nylon
75.0% cotton, 4.0% elastane, 21.0% polyamide/nylon
WA20
Wit hemd met opvallende strepenprint in roze, bordeaux, bruin en blauw. De blouse is gemaakt in een comfortabele katoenen stretchstof. De halflange pofmouwen zijn helemaal on-trend. Mix en match de blouse met een grijze jeans en roze cardigan.
Chemise blanche arborant un audacieux imprimé à rayures rose, bordeaux, brunes et bleues. La blouse est confectionnée dans un confortable tissu en coton extensible. Les manches bouffantes mi-longues sont très à la mode. Combinez cette blouse avec un jean gris et un cardigan rose.
White shirt with a striking stripe print in pink, burgundy, brown and blue. The blouse is made of a comfortable stretch-cotton fabric. The half-length puff sleeves are very fashionable. Mix and match the blouse with grey jeans and a pink cardigan.
Wit hemd met kleurrijke strepen
Chemise blanche à rayures colorées
White shirt with colourful stripes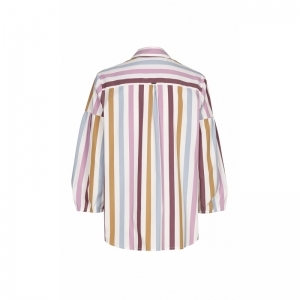 Xandres
xandres

Details
Menenstraat 32
B-8900 Ieper
webshop@toppio.be
Toppio
+32 57 20 07 52
www.toppio.be