Even geduld
Home
Verkennen
Over
Disclaimer
Mijn Account
Winkelmandje
Checkout
KLEDING
ACCESSOIRES
SCHOENEN
01798
AMINAS 01798 01 2790
129
129
Xandres, 01798, AMINAS 01798 01 2790, Rok, 34,36,38,40,42,44,46,48
Details
2790 WINE
2790 WINE}
97.0% polyester, 3.0% elastaan
97.0% polyester, 3.0% elasthanne
97.0% polyester, 3.0% elastane
WA05
Midi rok met een flatterende A-lijn snit: ideaal om bredere heupen te camoufleren! De rok sluit mooi aan in de taille dankzij de deels elastische tailleband. De structuurstof valt heel soepel en elegant om de benen. Combineer de bordeaux rok stijlvol met een bordeaux bloesje of bordeaux trui.
Jupe midi dotée d'une coupe flatteuse en ligne A : idéale pour camoufler des hanches un peu larges ! La jupe épouse parfaitement la taille grâce à la bande partiellement élastique au niveau de la taille. Le tissu structuré tombe avec souplesse et élégance sur les jambes. Combinez cette jupe bordeaux avec une blouse bordeaux ou un pull bordeaux pour créer un ensemble distingué.
A midi skirt with a flattering A-line cut: ideal for concealing wider hips! The skirt fits nicely at the waist thanks to the elastic waistband. The textured fabric falls very softly and elegantly around the legs. Combine the burgundy skirt stylishly with a burgundy blouse or jumper.
Bordeaux A-lijn rok
Jupe bordeaux en ligne A
Burgundy A-line skirt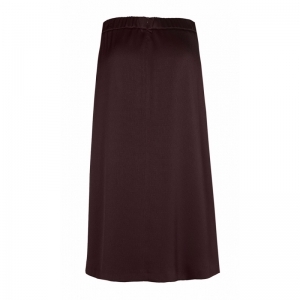 Xandres
xandres

Details
Menenstraat 32
B-8900 Ieper
webshop@toppio.be
Toppio
+32 57 20 07 52
www.toppio.be