Even geduld
Home
Verkennen
Over
Disclaimer
Mijn Account
Winkelmandje
Checkout
KLEDING
ACCESSOIRES
SCHOENEN
07293
LUTGARD 07293 01 8525
129
129
Xandres, 07293, LUTGARD 07293 01 8525, T-Shirt, XS,S,M,L,XL
Details
8525 NIGHTSKY
8525 NIGHTSKY}
96.0% viscose (=rayon), 4.0% elastaan
96.0% viscose, 4.0% elasthanne
96.0% viscose, 4.0% elastane
100081
Op zoek naar een modieus T-shirt dat je makkelijk kan combineren? Gevonden! Dit donkerblauwe T-shirt met een groene vlekjesprint heeft een gracieuze V-hals en lange mouwen die afgewerkt zijn met fronsjes. Combineer het donkerblauwe T-shirt casual met je favoriete jeans.
Vous êtes à la recherche d'un T-shirt tendance facile à combiner ? Vous l'avez trouvé ! Ce T-shirt bleu foncé arborant un imprimé de taches vert est doté d'un élégant col en V et de manches longues agrémentées de fronces. Combinez ce T-shirt bleu foncé avec votre jean favori pour un aspect décontracté.
If you are looking for a fashionable T-shirt that goes with any outfit, look no further! This dark blue T-shirt with green print has a graceful V-neck and long sleeves with frills. Combine it casually with your favourite jeans.
Donkerblauw T-shirt met groene print
T-shirt bleu foncé à imprimé vert
Dark blue T-shirt with green print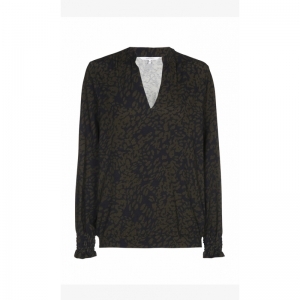 Xandres
xandres

Details
Menenstraat 32
B-8900 Ieper
webshop@toppio.be
Toppio
+32 57 20 07 52
www.toppio.be