Even geduld
Home
Verkennen
Over
Disclaimer
Mijn Account
Winkelmandje
Checkout
KLEDING
ACCESSOIRES
SCHOENEN
07448
FAZA 07448 01 8095
199
199
Xandres, 07448, FAZA 07448 01 8095, Kleed, XS,S,M,L,XL
Details
8095 SESAME
8095 SESAME}
96.0% viscose (=rayon), 4.0% elastaan
96.0% viscose, 4.0% elasthanne
96.0% viscose, 4.0% elastane
DW36
Lange jurk met een hemdkraagje en lange mouwen. De mouwen zijn afgewerkt met een fluwelen boordje. De print in kaki en beige knipoogt naar een pied-de-poulemotief: tijdloos mooi! De jurk is gemaakt in een viscose stretchstof en heeft een losse pasvorm. Combineer modieus met een kaki debardeur.
Robe longue avec col de chemise et manches longues. Les manches sont agrémentées d'un bord en velours. L'imprimé kaki et beige rappelle le motif pied-de-poule : une beauté intemporelle ! Cette robe à coupe ample est confectionnée dans un tissu en viscose extensible. Portez-la avec un débardeur kaki pour un style tendance.
This long dress has a shirt collar and long sleeves. The sleeves are finished with velvet cuffs. The print in khaki and beige has a hint of a houndstooth motif—timelessly beautiful! The dress is made in a viscose stretch fabric and has a loose fit. Combine fashionably with a khaki sweater vest.
Maxi jurk in kaki en beige
Robe maxi kaki et beige
Khaki and beige maxi dress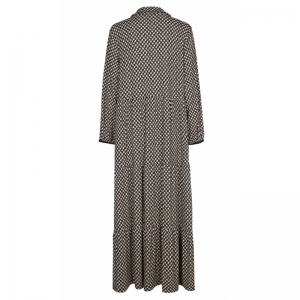 Xandres
xandres

Details
Menenstraat 32
B-8900 Ieper
webshop@toppio.be
Toppio
+32 57 20 07 52
www.toppio.be