Even geduld
Home
Verkennen
Over
Disclaimer
Mijn Account
Winkelmandje
Checkout
KLEDING
ACCESSOIRES
SCHOENEN
99404
FRANCAS 99404 01 1847
79
79
Xandres, 99404, FRANCAS 99404 01 1847, T-Shirt, XS,S,M,L,XL
Details
1847 MOUNT BLAN
1847 MOUNT BLAN}
64.0% lyocell, 5.0% elastaan, 31.0% katoen
64.0% lyocell, 5.0% elasthanne, 31.0% coton
64.0% lyocell, 5.0% elastane, 31.0% cotton
DW05
Dit witte T-shirt verrast met een bruine print die afgewerkt is met fluweelzachte velvet details. Het T-shirt heeft een ronde hals en korte mouwen. Het is gemaakt in een mix van katoen en duurzaam lyocell.
Ce T-shirt blanc surprend avec son imprimé brun agrémenté de détails dans un velours ultradoux. Le T-shirt est doté d'un col rond et de manches courtes. Il est confectionné dans un mélange de coton et de lyocell durables.
This white T-shirt surprises with a brown print that is finished with soft velvet details. The T-shirt has a round neck and short sleeves. It is made in a mix of sustainable lyocell and cotton.
Wit T-shirt met korte mouwen
T-shirt blanc à manches courtes
White T-shirt with short sleeves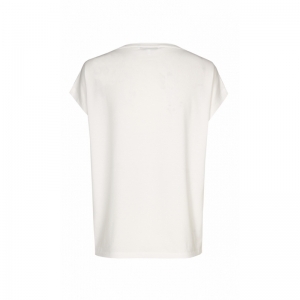 Xandres
xandres

Details
Menenstraat 32
B-8900 Ieper
webshop@toppio.be
Toppio
+32 57 20 07 52
www.toppio.be