Even geduld
Home
Verkennen
Over
Disclaimer
Mijn Account
Winkelmandje
Checkout
KLEDING
ACCESSOIRES
SCHOENEN
89025
SCARF_WINTERFLOWER 89025 01 29
79
79
Xandres, 89025, SCARF_WINTERFLOWER 89025 01 29, Sjaal, OneSize
Details
2925 LIME
2925 LIME}
100.0% modal
100.0% modal
100.0% modal
DK02
Stijlvolle sjaals zitten in het DNA van Xandres verweven. Deze zachte sjaal in modaal is een eyecatcher bij elke outfit met de romantische bloemenprint in nachtblauw en limoengeel. Het geelgroene accentboordje en de subtiele logoprint geven de sjaal een extra frisse, jonge twist. Must-have!
Les écharpes élégantes font partie de l'ADN de Xandres. Cette écharpe douce en modal sera mise en valeur par n'importe quelle tenue, avec son imprimé floral romantique dans des ton bleu nuit et jaune citron. Le bord jaune vert et le subtil imprimé logo confèrent à l'écharpe une touche de fraîcheur et de jeunesse. Un incontournable !
Scarves are part of Xandres' DNA. This soft scarf in modal with its romantic floral print in midnight blue and lime is an eye-catcher with any outfit. The yellowish-green border accent and the subtle logo print give the scarf a fresh, youthful twist. A must-have!
Kaki sjaal met bloemenprint
Écharpe kaki à imprimé floral
Khaki scarf with floral print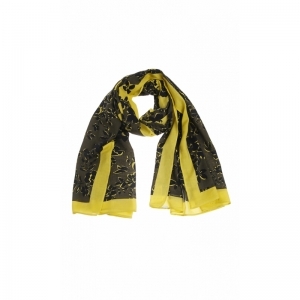 Xandres
xandres

Details
Menenstraat 32
B-8900 Ieper
webshop@toppio.be
Toppio
+32 57 20 07 52
www.toppio.be