Even geduld
Home
Verkennen
Over
Disclaimer
Mijn Account
Winkelmandje
Checkout
KLEDING
ACCESSOIRES
SCHOENEN
89027
CAPE_NANA 89027 01 8096
159
159
Xandres, 89027, CAPE_NANA 89027 01 8096, Sjaal, OneSize
Details
8096 SESAME
8096 SESAME}
70.0% wol, 5.0% andere vezels, 25.0% polyamide/nylon
70.0% laine, 5.0% andere vezels, 25.0% polyamide/nylon
70.0% wool, 5.0% other fibres, 25.0% polyamide/nylon
100107
Deze wollen cape sla je snel om de schouders op frisse dagen. Hij oogt tijdloos en chic in beige met een grijs-wit ruitenmotief. Met de kap en de speelse franjes onderaan krijgt de poncho een extra knus karakter. Stijlvol én lekker warm.
Une cape en laine à passer autour de vos épaules lors des journées fraîches. Le ton beige et le motif à carreaux gris-blanc lui confèrent un style intemporel et chic. La capuche et les franges ludiques dans le bas accentuent son aspect douillet. À la fois distingué et bien chaud.
This woollen cape is the perfect thing to wrap around your shoulders on chilly days. It looks timeless and elegant in beige with a grey and white check pattern. The hood and the playful frills at the bottom give the poncho an extra cosy feel. Stylish and warm.
Beige geruite cape met kap
Cape beige à carreaux et à capuche
Beige checked cape with hood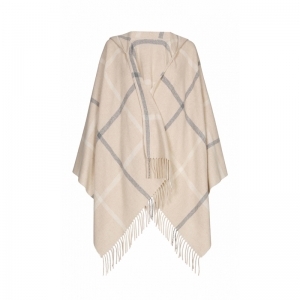 Xandres
xandres

Details
Menenstraat 32
B-8900 Ieper
webshop@toppio.be
Toppio
+32 57 20 07 52
www.toppio.be