Even geduld
Home
Verkennen
Over
Disclaimer
Mijn Account
Winkelmandje
Checkout
KLEDING
ACCESSOIRES
SCHOENEN
89036
SCARF_PAMY 89036 01 7806
69
69
Xandres, 89036, SCARF_PAMY 89036 01 7806, Sjaal, OneSize
Details
7806 MOSS
7806 MOSS}
42.0% wol, 34.0% acryl, 24.0% polyamide/nylon
42.0% laine, 34.0% acrylique, 24.0% polyamide/nylon
42.0% wool, 34.0% acrylic, 24.0% polyamide/nylon
100107
Klassevolle wintersjaal met een pied-de-poulemotief in kaki en wit. De sjaal is gemaakt in een zachte en kwaliteitsvolle wolmix. Het ruitenmotief is tijdloos en kan je makkelijk combineren met je favoriete winterjas.
Élégante écharpe d'hiver arborant un motif pied-de-poule kaki et blanc. Cette écharpe est confectionnée dans un doux mélange de laines de haute qualité. Intemporel, le motif à carreaux se combinera facilement avec votre veste d'hiver favorite.
Classic winter scarf with a houndstooth pattern in kaki and white. The scarf is made of a soft, high-quality wool blend. The check pattern is timeless and can easily be combined with your favourite winter coat.
Geruite sjaal in kaki en wit
Écharpe à carreaux kaki et blancs
Kaki and white checked scarf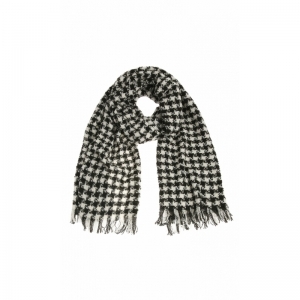 Xandres
xandres

Details
Menenstraat 32
B-8900 Ieper
webshop@toppio.be
Toppio
+32 57 20 07 52
www.toppio.be