Even geduld
Home
Verkennen
Over
Disclaimer
Mijn Account
Winkelmandje
Checkout
KLEDING
ACCESSOIRES
SCHOENEN
98217
BABISE 98217 01 0854
149
149
Xandres, 98217, BABISE 98217 01 0854, Pull, XS,S,M,L,XL
Details
0854 HERMEZ
0854 HERMEZ}
51.0% katoen, 13.0% acryl, 13.0% alpaca, 12.0% wol, 11.0% polyamide/nylon
51.0% coton, 13.0% acrylique, 13.0% alpaga, 12.0% laine, 11.0% polyamide/nylon
51.0% cotton, 13.0% acrylic, 13.0% alpaca, 12.0% wool, 11.0% polyamide/nylon
100006
Grof gebreide knitwear in een mix van katoen, alpaca en wol. Deze rode pull met een ronde hals brengt meteen feelgood vibes in je najaarsgarderobe. Combineer de pittige rode tint modieus met bruin, beige, zandtinten...
Tricot à grosse maille confectionné dans un mélange de coton, d'alpaga et de laine. Ce pull rouge à encolure ronde apportera d'emblée une touche de bonne humeur dans votre garde-robe d'automne. Combinez le rouge vif avec le brun, le beige, les tons sables... pour créer un style tendance.
A chunky knitted jumper in a mix of cotton, alpaca and wool. This red pullover with round neck brings feel-good vibes to your autumn wardrobe. The bright red looks great with brown, beige and sand.
Rode pullover
Pull rouge
Red pullover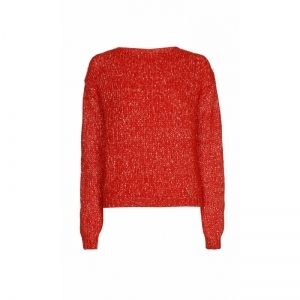 Xandres
xandres

Details
Menenstraat 32
B-8900 Ieper
webshop@toppio.be
Toppio
+32 57 20 07 52
www.toppio.be