Even geduld
Home
Verkennen
Over
Disclaimer
Mijn Account
Winkelmandje
Checkout
KLEDING
ACCESSOIRES
SCHOENEN
01712
PINA-WI21 01712 06 8044
139
139
Xandres, 01712, PINA-WI21 01712 06 8044, Broek, 34,36,38,40,42,44,46,48
Details
8044 MELANIC
8044 MELANIC}
40.0% wol, 32.0% polyester, 14.0% viscose (=rayon), 13.0% polyamide/nylon, 1.0% elastaan
40.0% laine, 32.0% polyester, 14.0% viscose, 13.0% polyamide/nylon, 1.0% elasthanne
40.0% wool, 32.0% polyester, 14.0% viscose, 13.0% polyamide/nylon, 1.0% elastane
DW36
Een dag op het werk of een uitstapje met het gezin? Deze grijze wollen broek kan je voor elke gelegenheid dragen. De broek sluit met een blinde rits opzij en heeft een brede tailleboord. De broekspijpen zijn recht en hebben een ingestreken beenplooi. De donkergrijze tint is tijdloos en makkelijk combineerbaar.
Une journée au bureau ou une sortie en famille ? Ce pantalon en laine gris se porte en toutes circonstances. Il se ferme latéralement à l'aide d'une fermeture à glissière invisible et il est doté d'un large bord au niveau de la taille. Les jambes droites arborent un pli marqué. Intemporel, le ton gris foncé est très facile à combiner.
A day at work or a family outing: these grey woollen trousers are perfect for any occasion. The trousers have a blind zip on the side and a wide waistband. The straight trouser legs have a pressed crease. The dark-grey colour never goes out of fashion and is easy to combine.
Grijze broek met straight fit
Pantalon gris à coupe droite
Grey trousers with straight fit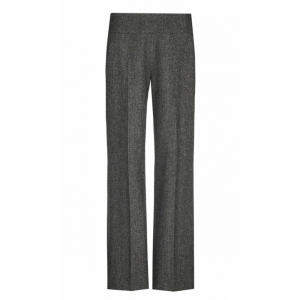 Xandres
xandres

Details
Menenstraat 32
B-8900 Ieper
webshop@toppio.be
Toppio
+32 57 20 07 52
www.toppio.be