Even geduld
Home
Verkennen
Over
Disclaimer
Mijn Account
Winkelmandje
Checkout
KLEDING
ACCESSOIRES
SCHOENEN
01712
PAWLA-WI21 01712 01 1223
129
129
Xandres, 01712, PAWLA-WI21 01712 01 1223, Broek, 34,36,38,40,42,44,46,48
Details
1223 PETROL
1223 PETROL}
40.0% wol, 32.0% polyester, 14.0% viscose (=rayon), 13.0% polyamide/nylon, 1.0% elastaan
40.0% laine, 32.0% polyester, 14.0% viscose, 13.0% polyamide/nylon, 1.0% elasthanne
40.0% wool, 32.0% polyester, 14.0% viscose, 13.0% polyamide/nylon, 1.0% elastane
DW36
Deze petrolblauwe broek heeft een relaxed fit. Dankzij de elastische band sluit ze mooi aan in de taille. De geklede stof is een mix met o.m. wol en viscose: heerlijk warm en zacht! De broek heeft twee steekzakken en een striklintje in de taille. Combineer petrolblauw mooi met bruin.
Ce pantalon bleu pétrole arbore une coupe décontractée. Il épouse parfaitement la taille grâce à la bande élastique. L'élégant tissu contient notamment de la laine et de la viscose : chaleur et douceur garanties ! Le pantalon comporte deux poches fendues et un ruban à nouer au niveau de la taille. Le bleu pétrole se combine parfaitement avec le brun.
These petrol blue trousers have a relaxed fit. The trousers fit nicely at the waist thanks to the elastic band. The smart fabric is a blend of wool and viscose: wonderfully warm and soft! The trousers have two side pockets and a tie at the waist. Petrol and brown are a lovely combination.
Blauwe wollen broek
Pantalon en laine bleu
Blue woollen trousers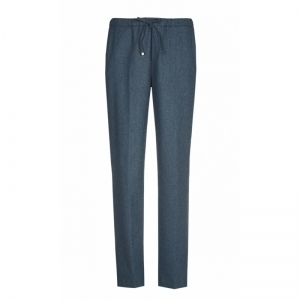 Xandres
xandres

Details
Menenstraat 32
B-8900 Ieper
webshop@toppio.be
Toppio
+32 57 20 07 52
www.toppio.be