Even geduld
Home
Verkennen
Over
Disclaimer
Mijn Account
Winkelmandje
Checkout
KLEDING
ACCESSOIRES
SCHOENEN
01635
BRYZANO 01635 02 0041
199
199
Xandres, 01635, BRYZANO 01635 02 0041, Mantel, 34,36,38,40,42,44,46,48
Details
0041 BLACK
0041 BLACK}
64.0% acryl, 36.0% polyamide/nylon
64.0% acrylique, 36.0% polyamide/nylon
64.0% acrylic, 36.0% polyamide/nylon
WA05
Kort, zwart winterjasje met een opstaande kraag en drukknopen. De geklede stof heeft een harige, winterse look en is gevoerd met een gladde, zwarte voeringstof. Zilverkleurige biesjes maken het af. De jas heeft twee steekzakken. Je kan deze korte mantel heel feestelijk dragen bij een vrouwelijke jurk met print of casual combineren met een jeans en wollen trui.
Veste d'hiver courte noire dotée d'un col montant et de boutons à pression. Le tissu habillé à l'aspect poilu et hivernal est doublé d'un tissu noir lisse. Les liserés argentés complètent l'ensemble. La veste comporte deux poches fendues. Vous pouvez porter ce manteau court avec une jupe féminine à imprimé pour un côté festif ou avec un jean et un pull en laine pour un style décontracté.
Short, black winter coat with a stand-up collar and press studs. The smart fabric has a furry, wintry look and is lined with a smooth, black fabric. A silver-coloured trim adds the finishing touch. The jacket has two side pockets. Wear this short coat with a feminine dress with a print for a party or combine it casually with jeans and a woollen jumper.
Korte zwarte mantel
Manteau court noir
Short black coat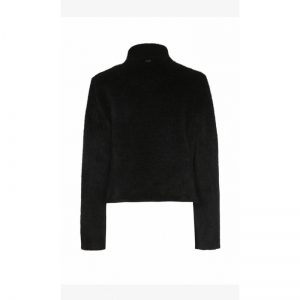 Xandres
xandres

Details
Menenstraat 32
B-8900 Ieper
webshop@toppio.be
Toppio
+32 57 20 07 52
www.toppio.be