Even geduld
Home
Verkennen
Over
Disclaimer
Mijn Account
Winkelmandje
Checkout
KLEDING
ACCESSOIRES
SCHOENEN
07216
CHARLEEN 07216 01 1066
169
169
Xandres, 07216, CHARLEEN 07216 01 1066, Blouse, 34,36,38,40,42,44,46,48
Details
1066 SAFRAN
1066 SAFRAN}
100.0% viscose (=rayon)
100.0% viscose
100.0% viscose
WA05
Lichtbruine blouse met lange mouwen in soepele viscose. De blouse heeft een opstaande kraag met smock en is ook aan de mouwboordjes afgewerkt met smock. De rijke paisleyprint in bruine en lila tinten is een blikvanger. Combineer de blouse elegant met beige, bruine en paarse tinten.
Blouse brun clair à manche longues confectionnée dans une viscose souple. La blouse est dotée d'un col montant muni d'un smock, que l'on retrouve également au niveau des manchettes. Le riche imprimé paisley dans des tons brun et lilas attirera à coup sûr les regards. Portez cette blouse avec des tons beige, brun et violet pour créer un ensemble distingué.
Light brown blouse with long sleeves in soft viscose. The blouse has a stand-up collar and long sleeves that are finished with smocking. The rich paisley print in brown and lilac tones is an eye-catcher. Combine the blouse elegantly with beige, brown or purple.
Bruine blouse met paisleyprint
Blouse brune à imprimé paisley
Brown blouse with paisley print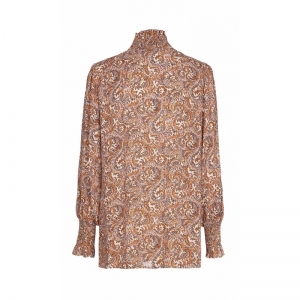 Xandres
xandres

Details
Menenstraat 32
B-8900 Ieper
webshop@toppio.be
Toppio
+32 57 20 07 52
www.toppio.be