Even geduld
Home
Verkennen
Over
Disclaimer
Mijn Account
Winkelmandje
Checkout
KLEDING
ACCESSOIRES
SCHOENEN
89050
SCARF_CALM_WINTER 89050 01 122
99
99
Xandres, 89050, SCARF_CALM_WINTER 89050 01 122, Sjaal, OneSize
Details
1225 PETROL
1225 PETROL}
100.0% zijde
100.0% soie
100.0% silk
DK02
De zijden carré sjaal vormt een vaste waarde in de Xandres-collectie. Wij ontwerpen al seizoenen lang kwaliteitsvolle en modieuze zijden sjaals die je outfit helemaal af maken. Deze sjaal met een print in zwart, petrol en rood kan je eindeloos mixen en matchen. Een topper in je garderobe!
Le carré en soie constitue une valeur sûre dans la collection Xandres. Nous concevons, depuis de nombreuses saisons, des foulards en soie tendance et de grande qualité qui complètent parfaitement votre tenue. Ce foulard, agrémenté d'un imprimé dans des tons noir, pétrole et rouge, se prête à une multitude de combinaisons. Un incontournable dans votre garde-robe !
The silk square scarf is a signature Xandres item. We have been designing high-quality and fashionable silk scarves for seasons. The black, petrol blue and red pattern makes the scarf east to mix and match. A must-have in your wardrobe!
Zijden sjaal in zwart, blauw en rood
Foulard en soie dans des tons noir, bleu et rouge
Black, blue and red silk scarf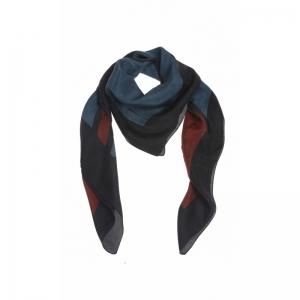 Xandres
xandres

Details
Menenstraat 32
B-8900 Ieper
webshop@toppio.be
Toppio
+32 57 20 07 52
www.toppio.be