Even geduld
Home
Verkennen
Over
Disclaimer
Mijn Account
Winkelmandje
Checkout
KLEDING
ACCESSOIRES
SCHOENEN
98328
ARNAUD 98328 01 0794
139
139
Xandres, 98328, ARNAUD 98328 01 0794, Pull, XS,S,M,L,XL
Details
0794 LAKE
0794 LAKE}
32.0% polyamide/nylon, 3.0% elastaan, 23.0% alpaca, 21.0% polyester, 21.0% wol
32.0% polyamide/nylon, 3.0% elasthanne, 23.0% alpaga, 21.0% polyester, 21.0% laine
32.0% polyamide/nylon, 3.0% elastane, 23.0% alpaca, 21.0% polyester, 21.0% wool
100013
Lichtblauwe pull met een ronde hals en lange mouwen. Een ingebreid siermotiefje geeft een gesofisticeerde twist aan de pull. De zachte, kwaliteitsvolle wolmix met o.m. alpaca houdt je heerlijk warm op koude najaarsdagen. Mix en match mooi met de bijpassende wollen sjaal.
Pull bleu clair à encolure ronde et à manches longues. Un motif décoratif intégré dans le tricot confère une allure raffinée à ce pull. Le doux mélange de laines de haute qualité qui contient notamment de l'alpaga vous tiendra bien chaud lors des froides journées d'automne. Combinez ce pull avec l'écharpe en laine assortie.
A light blue pullover with a round neck and long sleeves. A knitted decorative pattern gives a sophisticated twist to the pullover. The soft, high-quality wool blend including alpaca keeps you nice and warm on cold autumn days. Mix and match with the matching wool scarf.
Blauwe pullover met ronde hals
Pull bleu à encolure ronde
Blue jumper with round neck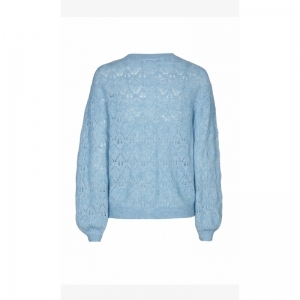 Xandres
xandres

Details
Menenstraat 32
B-8900 Ieper
webshop@toppio.be
Toppio
+32 57 20 07 52
www.toppio.be