Even geduld
Home
Verkennen
Over
Disclaimer
Mijn Account
Winkelmandje
Checkout
KLEDING
ACCESSOIRES
SCHOENEN
98328
ALPER 98328 01 0794
109
109
Xandres, 98328, ALPER 98328 01 0794, Sjaal, OneSize
Details
0794 LAKE
0794 LAKE}
32.0% polyamide/nylon, 3.0% elastaan, 23.0% alpaca, 21.0% polyester, 21.0% wol
32.0% polyamide/nylon, 3.0% elasthanne, 23.0% alpaga, 21.0% polyester, 21.0% laine
32.0% polyamide/nylon, 3.0% elastane, 23.0% alpaca, 21.0% polyester, 21.0% wool
100060
Een koude najaarsdag? Dan houdt deze lichtblauwe sjaal met een ingebreid siermotiefje je heerlijk warm. De wolmix met o.m. alpaca voelt heel zacht aan op de huid. Draag de sjaal met de pull in dezelfde knit: stylish!
Une froide journée d'automne ? Cette écharpe bleu clair agrémentée d'un motif décoratif intégré dans la maille vous tiendra bien chaud. Le mélange de laines qui contient notamment de l'alpaga procure une extrême sensation de douceur sur la peau. Combinez l'écharpe avec le pull arborant la même maille : l'élégance à l'état pur !
On a cold autumn day, this light blue scarf with a decorative knitted pattern will keep you nice and warm. The wool blend includes alpaca and is very soft. Wear the scarf with the pullover in the same knit: stylish!
Lichtblauwe wintersjaal
Écharpe d'hiver bleu clair
Light blue winter scarf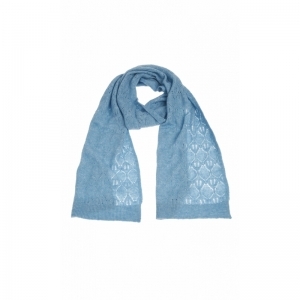 Xandres
xandres

Details
Menenstraat 32
B-8900 Ieper
webshop@toppio.be
Toppio
+32 57 20 07 52
www.toppio.be