Even geduld
Home
Verkennen
Over
Disclaimer
Mijn Account
Winkelmandje
Checkout
KLEDING
ACCESSOIRES
SCHOENEN
98367
ARTIE 98367 01 1846
129
129
Xandres, 98367, ARTIE 98367 01 1846, Pull, XS,S,M,L,XL
Details
1846 MOUNT BLAN
1846 MOUNT BLAN}
8.0% mohair, 42.0% acryl, 30.0% polyamide/nylon, 20.0% wol
8.0% mohair, 42.0% acrylique, 30.0% polyamide/nylon, 20.0% laine
8.0% mohair, 42.0% acrylic, 30.0% polyamide/nylon, 20.0% wool
100009
Gebreide trui met ronde hals in gebroken wit, beige en bruin. Het sierlijke motiefje op de voorzijde en mouwen van de trui matcht perfect met de prints in de collectie. Op de rug is de pull gebroken wit. Combineer de pullover mooi met een geruite midi rok in beige tinten.
Pull tricoté à encolure ronde dans des tons blanc, beige et brun. Le subtil motif à l'avant et sur les manches s'harmonise parfaitement avec les imprimés de la collection. Le dos du pull arbore un ton blanc cassé. Ce pull se combinera parfaitement avec une jupe midi à carreaux dans des tons beiges.
Knitted jumper with a round neck in white, beige and brown. The decorative pattern on the front and sleeves matches perfectly with the prints in the collection. The back of the pullover is off-white. Beautiful with a checked midi skirt in beige tones.
Wollen pull in beige en bruin
Pull en laine beige et marron
Beige and brown woollen pullover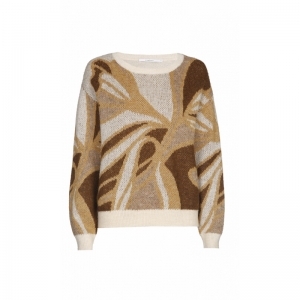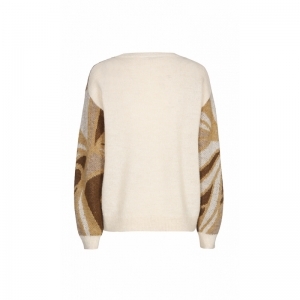 Xandres
xandres

Details
Menenstraat 32
B-8900 Ieper
webshop@toppio.be
Toppio
+32 57 20 07 52
www.toppio.be