Even geduld
Home
Verkennen
Over
Disclaimer
Mijn Account
Winkelmandje
Checkout
KLEDING
ACCESSOIRES
SCHOENEN
98332
BELARTO 98332 01 1021
169
169
Xandres, 98332, BELARTO 98332 01 1021, Pull, XS,S,M,L,XL
Details
1021 DARK LILA
1021 DARK LILA}
38.0% acryl, 34.0% alpaca, 15.0% polyamide/nylon, 13.0% scheerwol
38.0% acrylique, 34.0% alpaga, 15.0% polyamide/nylon, 13.0% laine vierge
38.0% acrylic, 34.0% alpaca, 15.0% polyamide/nylon, 13.0% virgin wool
100024
Paarse pull in een kwaliteitsvolle wolmix met o.m. alpaca en scheerwol. De gebreide trui heeft een opstaand kraagje en discreet siermotiefje. Op een koude winterdag draag je de trui samen met de bijpassende wollen sjaal.
Pull violet confectionné dans un mélange de laines de qualité contenant notamment de l'alpaga et de la laine vierge. Le pull tricoté est doté d'un col montant et d'un discret motif décoratif. Lors des froides journées d'hiver, portez ce pull avec l'écharpe en laine assortie.
Purple pullover in a high-quality wool blend with alpaca and new wool. The knitted jumper has a stand-up collar and discreet decorative pattern. On a cold winter day, you can wear it with the matching wool scarf.
Paarse pull met opstaande kraag
Pull violet à col montant
Purple pullover with stand-up collar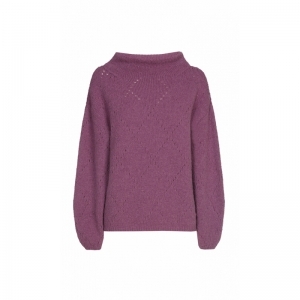 Xandres
xandres

Details
Menenstraat 32
B-8900 Ieper
webshop@toppio.be
Toppio
+32 57 20 07 52
www.toppio.be