Even geduld
Home
Verkennen
Over
Disclaimer
Mijn Account
Winkelmandje
Checkout
KLEDING
ACCESSOIRES
SCHOENEN
98332
BOZENA 98332 01 0184
229
229
Xandres, 98332, BOZENA 98332 01 0184, Cardigan, XS,S,M,L,XL
Details
0184 QUARTZ
0184 QUARTZ}
38.0% acryl, 34.0% alpaca, 15.0% polyamide/nylon, 13.0% scheerwol
38.0% acrylique, 34.0% alpaga, 15.0% polyamide/nylon, 13.0% laine vierge
38.0% acrylic, 34.0% alpaca, 15.0% polyamide/nylon, 13.0% virgin wool
100024
Op koude najaarsdagen is een lange, wollen cardigan een absolute must-have. Deze winterse, gebreide vest draag je nonchalant open. De tijdloze grijze tint is makkelijk te combineren met elke (mode)kleur.
Un long cardigan en laine est un incontournable absolu lors des froides journées d'automne. Ce cardigan d'hiver se porte ouvert pour un effet décontracté. Intemporel, le ton gris se combinera très facilement avec n'importe quelle couleur (à la mode).
On cold autumn days, a long, woollen cardigan is an absolute must-have. Wear this wintry knitted cardigan open for a casual look. The timeless grey looks great with all of this autumn's fashion colours.
Lange grijze cardigan
Long cardigan gris
Long grey cardigan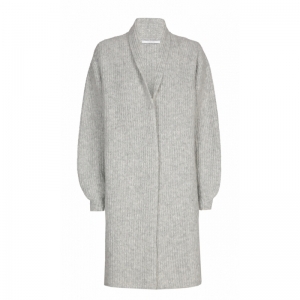 Xandres
xandres

Details
Menenstraat 32
B-8900 Ieper
webshop@toppio.be
Toppio
+32 57 20 07 52
www.toppio.be