Even geduld
Home
Verkennen
Over
Disclaimer
Mijn Account
Winkelmandje
Checkout
KLEDING
ACCESSOIRES
SCHOENEN
98372
MARWA 98372 01 1061
129
129
Xandres, 98372, MARWA 98372 01 1061, Pull, XS,S,M,L,XL
Details
1061 SAFRAN
1061 SAFRAN}
100126
De mouwloze, gebreide trui is een must-have in het najaar. Deze zachte debardeur heeft een ronde hals en een strepenmotief in bruin, wit, grijs en paars. Je combineert hem stijlvol met een elegante jurk in bruine en grijze tinten.
Le pull tricoté sans manches est un incontournable de l'automne. Ce doux débardeur comporte une encolure ronde et un motif rayé dans des tons brun, blanc, gris et violet. Portez-le avec une robe élégante dans des tons brun et gris pour un aspect stylé.
This autumn's must-have is the sleeveless, knitted sweater. This soft sweater vest has a round neck and stripes in brown, white, grey and purple. Mix and match with an elegant dress in brown and grey.
Gebreide debardeur in bruin, grijs, paars
Débardeur tricoté dans des tons brun, gris, violet
Brown, grey and purple sweater vest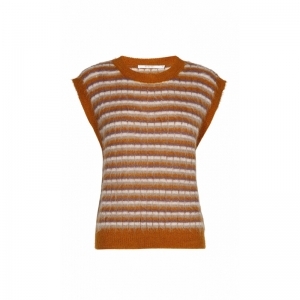 Xandres
xandres

Details
Menenstraat 32
B-8900 Ieper
webshop@toppio.be
Toppio
+32 57 20 07 52
www.toppio.be