Even geduld
Home
Verkennen
Over
Disclaimer
Mijn Account
Winkelmandje
Checkout
KLEDING
ACCESSOIRES
SCHOENEN
99383
GERHARD 99383 01 1025
149
149
Xandres, 99383, GERHARD 99383 01 1025, Pull, XS,S,M,L,XL
Details
1025 DARK LILA
1025 DARK LILA}
90.0% wol, 10.0% kasjmier
90.0% laine, 10.0% cachemire
90.0% wool, 10.0% cashmere
DW36
Superzachte knitwear in een wolmix met cashmere. De pullover heeft een ronde hals en wijde pofmouwen. De strepenprint in lila en beige springt in het oog. Combineer deze gestreepte trui met de sjaal in hetzelfde strepenmotief.
Tricot extrêmement doux confectionné dans un mélange de laines contenant du cachemire. Le pull est doté d'une encolure ronde et de larges manches bouffantes. L'imprimé à rayures lilas et beiges ne passe pas inaperçu. Portez ce pull rayé avec l'écharpe arborant le même motif à rayures.
Extremely soft knitwear in a wool blend with cashmere. The pullover has a round neck and wide puff sleeves. The striped print in lilac and beige catches the eye. Wear this striped jumper with the scarf in the same striped pattern.
Gestreepte pull in beige en paars
Pull rayé dans des tons beige et violet
Pullover with beige and purple stripes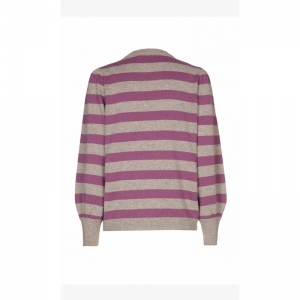 Xandres
xandres

Details
Menenstraat 32
B-8900 Ieper
webshop@toppio.be
Toppio
+32 57 20 07 52
www.toppio.be