Even geduld
Home
Verkennen
Over
Disclaimer
Mijn Account
Winkelmandje
Checkout
KLEDING
ACCESSOIRES
SCHOENEN
04595
POOKY 04595 01 0766
129
129
Xandres, 04595, POOKY 04595 01 0766, Broek, 34,36,38,40,42,44,46,48
Details
0766 EARTH
0766 EARTH}
60.0% polyester, 5.0% elastaan, 35.0% polyamide/nylon
60.0% polyester, 5.0% elasthanne, 35.0% polyamide/nylon
60.0% polyester, 5.0% elastane, 35.0% polyamide/nylon
DW17
Classy broek met een tijdloos pied-de-poulemotief in beige, bruin en zwart. De slim fit broek sluit mooi aan en zit heel comfortabel dankzij de stevige stretchstof. Combineer de broek met een beige cashmere pull en beige-bruine cape.
Élégant pantalon agrémenté d'un motif pied-de-poule intemporel dans des tons beige, brun et noir. Ce pantalon à coupe ajustée tombe parfaitement. Il est également très confortable grâce à la matière extensible robuste. Portez-le avec un pull en cachemire beige et une cape brun-beige.
Elegant trousers with a timeless houndstooth pattern in beige, brown and black. The slim fit trousers have a lovely fit and are very comfortable thanks to the sturdy stretch fabric. Combine the trousers with a beige cashmere pullover and beige-brown cape.
Slim fit broek met pied-de-pouleprint in beige en zwart
Pantalon ajusté à motif pied-de-poule dans des tons beige et noir
Slim fit trousers with houndstooth print in beige and black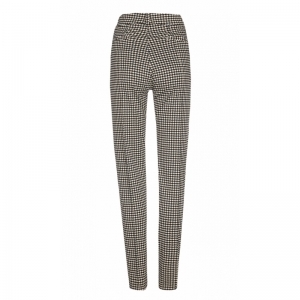 Xandres
xandres

Details
Menenstraat 32
B-8900 Ieper
webshop@toppio.be
Toppio
+32 57 20 07 52
www.toppio.be