Even geduld
Home
Verkennen
Over
Disclaimer
Mijn Account
Winkelmandje
Checkout
KLEDING
ACCESSOIRES
SCHOENEN
04057
KIYOKO-WI21-BIS 04057 01 0760
229
229
Xandres, 04057, KIYOKO-WI21-BIS 04057 01 0760, Kleed, 34,36,38,40,42,44,46,48
Details
0760 EARTH
0760 EARTH}
100.0% polyester
100.0% polyester
100.0% polyester
DW36
Midi jurk in een warme bruine tint. De shirt dress sluit met knoopjes en heeft lange mouwen. Een stoffen knooplint zet je taille in de verf. De zachte stof met velvet look is winters mooi, elegant en comfortabel.
Robe midi dans un chaleureux ton brun. Cette robe-chemise à manches longues se ferme à l'aide de boutons. Le ruban à nouer en tissu met la taille en valeur. La matière douce qui a l'aspect du velours fait de cette chemise un magnifique article d'hiver, élégant et confortable.
Midi dress in a warm brown hue. The shirt dress closes with buttons and has long sleeves. The fabric tie highlights your waist. The soft fabric with a velvet look is beautiful in winter, elegant and comfortable.
Bruine hemdjurk in ribfluweel
Robe-chemise brune en velours côtelé
Brown corduroy shirt dress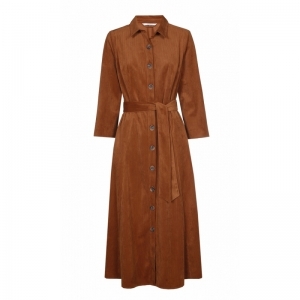 Xandres
xandres

Details
Menenstraat 32
B-8900 Ieper
webshop@toppio.be
Toppio
+32 57 20 07 52
www.toppio.be