Even geduld
Home
Verkennen
Over
Disclaimer
Mijn Account
Winkelmandje
Checkout
KLEDING
ACCESSOIRES
SCHOENEN
99826
GIVAR 99826 01 8525
129
129
Xandres, 99826, GIVAR 99826 01 8525, Pull, XS,S,M,L,XL
Details
8525 NIGHTSKY
8525 NIGHTSKY}
70.0% zijde, 30.0% katoen
70.0% soie, 30.0% coton
70.0% silk, 30.0% cotton
DH07
Fijne pull met een ronde hals en lange mouwen. De subtiele glitterboordjes geven extra allure aan dit verfijnde truitje. De lichte knitwear is gemaakt in een mix van zijde en katoen. In tijdloos donkerblauw kan je dit truitje seizoenen lang dragen: een klassieker!
Très beau pull muni d'une encolure ronde et de manches longues. Les subtils bords pailletés confèrent un cachet supplémentaire à ce pull raffiné. La maille légère est confectionnée dans un mélange de soie et de coton. Grâce à son ton bleu foncé intemporel, vous porterez ce pull pendant de nombreuses saisons : un classique !
This pullover has a round neck and long sleeves. The subtle glitter trims add extra allure to this elegant jumper. The lightweight jumper is made from a silk and cotton blend. In timeless dark blue, you can wear this jumper season after season: a classic!
Donkerblauwe trui in zijde en katoen
Pull bleu foncé en soie et en coton
Dark blue jumper in silk and cotton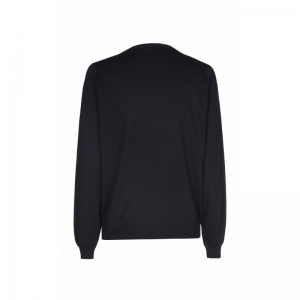 Xandres
xandres

Details
Menenstraat 32
B-8900 Ieper
webshop@toppio.be
Toppio
+32 57 20 07 52
www.toppio.be