Even geduld
Home
Verkennen
Over
Disclaimer
Mijn Account
Winkelmandje
Checkout
KLEDING
ACCESSOIRES
SCHOENEN
01027
PHANTA-TB72-BRD 01027 03 1484
149
149
Xandres, 01027, PHANTA-TB72-BRD 01027 03 1484, Broek, 34,36,38,40,42,44,46,48
Details
1484 PISTACHIO
1484 PISTACHIO}
9.0% wol, 62.0% polyester, 3.0% elastaan, 26.0% viscose (=rayon)
9.0% laine, 62.0% polyester, 3.0% elasthanne, 26.0% viscose
9.0% wool, 62.0% polyester, 3.0% elastane, 26.0% viscose
DW06
Deze geklede broek in lichtbeige heeft een modieuze 7/8 lengte en toont dus je enkels. De broekspijpen volgen de lijn van je benen en worden iets smaller aan de enkels. Ingestreken beenplooien geven extra allure. Dankzij een tikje stretch in de stof zit de pantalon als gegoten. En zag je al dat de steekzakken mooi zijn afgewerkt met een fijn biesje?
Avec sa longueur 7/8 très à la mode, ce pantalon beige clair habillé dévoile les chevilles. Il épouse la courbe de vos jambes et se rétrécit légèrement au niveau des chevilles. Les plis marqués lui confèrent un cachet supplémentaire. Le pantalon épouse parfaitement la silhouette grâce au tissu légèrement extensible. Et avez-vous le subtil liseré sur les poches fendues ?
These smart beige trousers are fashionably cropped, highlighting the ankles. The trousers follow the line of your legs and narrow at the ankles. The pressed crease adds extra allure. Thanks to a little stretch in the fabric, the trousers fit perfectly. The delicate piping on the side pockets is a beautiful touch.
Geklede broek in lichtbeige
Pantalon beige clair habillé
Smart light beige trousers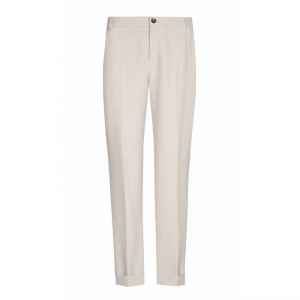 Xandres
xandres

Details
Menenstraat 32
B-8900 Ieper
webshop@toppio.be
Toppio
+32 57 20 07 52
www.toppio.be