Even geduld
Home
Verkennen
Over
Disclaimer
Mijn Account
Winkelmandje
Checkout
KLEDING
ACCESSOIRES
SCHOENEN
99383
GERAN 99383 01 1103
169
169
Xandres, 99383, GERAN 99383 01 1103, Pull, XS,S,M,L,XL
Details
1103 LIGHT TAUP
1103 LIGHT TAUP}
90.0% wol, 10.0% kasjmier
90.0% laine, 10.0% cachemire
90.0% wool, 10.0% cashmere
DW36
Lichte taupe rolkraagtrui in een zachte, kwaliteitsvolle wolmix met cashmere. De pull verrast met leuke details, zoals de bijzondere inzet van de mouwen en de elegante plooien aan de mouwboordjes. Combineer taupe stijlvol met bruin, ecru, beige, lila, ...
Pull à col roulé léger de couleur taupe confectionné dans un doux mélange de laines de haute qualité contenant du cachemire. Ce pull surprend avec ses jolis détails, comme l'insert particulier au niveau des manches et les plis élégants aux manchettes. Le ton taupe se marie élégamment avec le brun, l'écru, le beige, le lilas...
Light taupe turtleneck in a soft, high-quality wool blend with cashmere. The details like the unusual insert on the sleeves and the elegant pleats on the cuffs are a lovely surprise. Stylishly combine the taupe with brown, ecru, beige or lilac.
Taupe coltrui in wol
Pull à col roulé taupe en laine
Taupe woollen turtleneck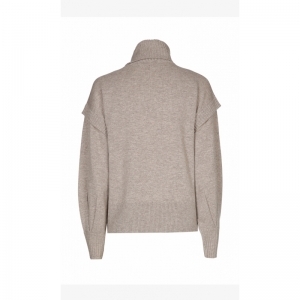 Xandres
xandres

Details
Menenstraat 32
B-8900 Ieper
webshop@toppio.be
Toppio
+32 57 20 07 52
www.toppio.be