Even geduld
Home
Verkennen
Over
Disclaimer
Mijn Account
Winkelmandje
Checkout
KLEDING
ACCESSOIRES
SCHOENEN
02287
KINE 02287 01 0726
249
249
Xandres, 02287, KINE 02287 01 0726, Kleed, 34,36,38,40,42,44,46,48
Details
0726 DARK BROWN
0726 DARK BROWN}
100.0% viscose (=rayon)
100.0% viscose
100.0% viscose
DH07
Lange hemdjurk in een petrolblauwe stof met bruin chevronmotief. Het motief heeft een zachte velvet touch. De jurk heeft lange, lichtjes transparante mouwen en een knooplint om je taille te accentueren. Op het lichaam is de stof gevoerd en schijnt ze dus niet door.
Longue robe-chemise dans un tissu bleu pétrole agrémenté d'un motif à chevrons marron. La douceur du motif est identique à celle du velours. La robe est dotée de manches longues légèrement transparentes et d'un ruban à nouer qui met la taille en valeur. Le tissu, doublé sur le corps, ne laisse rien transparaître.
Long shirt dress in a petrol blue fabric with a brown chevron pattern. The pattern has a soft velvet feel. The dress has long, slightly transparent sleeves and a tie ribbon to accentuate your waist. The fabric is lined on the body and is, therefore, not transparent.
Blauwe maxi jurk met bruin chevronmotief
Robe maxi bleue avec motif à chevrons brun
Blue maxi dress with brown chevron print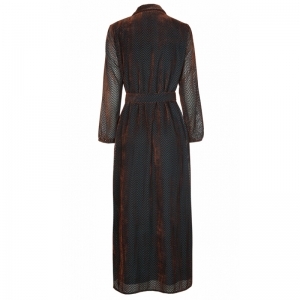 Xandres
xandres

Details
Menenstraat 32
B-8900 Ieper
webshop@toppio.be
Toppio
+32 57 20 07 52
www.toppio.be