Even geduld
Home
Verkennen
Over
Disclaimer
Mijn Account
Winkelmandje
Checkout
KLEDING
ACCESSOIRES
SCHOENEN
64065
PUK-WI22 64065 02 3155
149
149
Xandres, 64065, PUK-WI22 64065 02 3155, Broek, 34,36,38,40,42,44,46,48
Details
3155 BISCUIT
3155 BISCUIT}
62.0% polyester, 27.0% viscose - Ecovero, 8.0% wol, 3.0% elastaan
62.0% polyester, 27.0% viscose - Ecovero, 8.0% laine, 3.0% elasthanne
62.0% polyester, 27.0% viscose - Ecovero, 8.0% wool, 3.0% elastane
DW36
Bovenaan sluit deze geklede broek mooi aan, naar onderen toe lopen de pijpen wat wijder uit. Door het gebruikte materiaal, een hoogwaardige jersey met stretch, zit de broek heel comfortabel. Het verfijnde ruitmotief (prince-de-galles) in subtiel biscuitbeige op ecurkleurige achtergrond geeft deze broek allure.
Ce pantalon habillé s'ajuste parfaitement au niveau de la taille, tandis que les jambes s'évasent légèrement dans le bas. La matière utilisée, un jersey extensible de haute qualité, assure un confort optimal. Ce pantalon ne manque pas d'allure avec son élégant motif à carreaux (prince-de-galles) d'un subtil ton beige biscuit sur fond écru.
These formal trousers are beautifully tailored at the top, and the legs widen out at the bottom. The fabric used, a quality jersey with stretch, makes them very comfortable. The elegant Prince of Wales check pattern in a subtle biscuit beige on an ecru-coloured background gives these trousers a striking appearance.
Broek met ruitmotief
Pantalon à carreaux
Checked trousers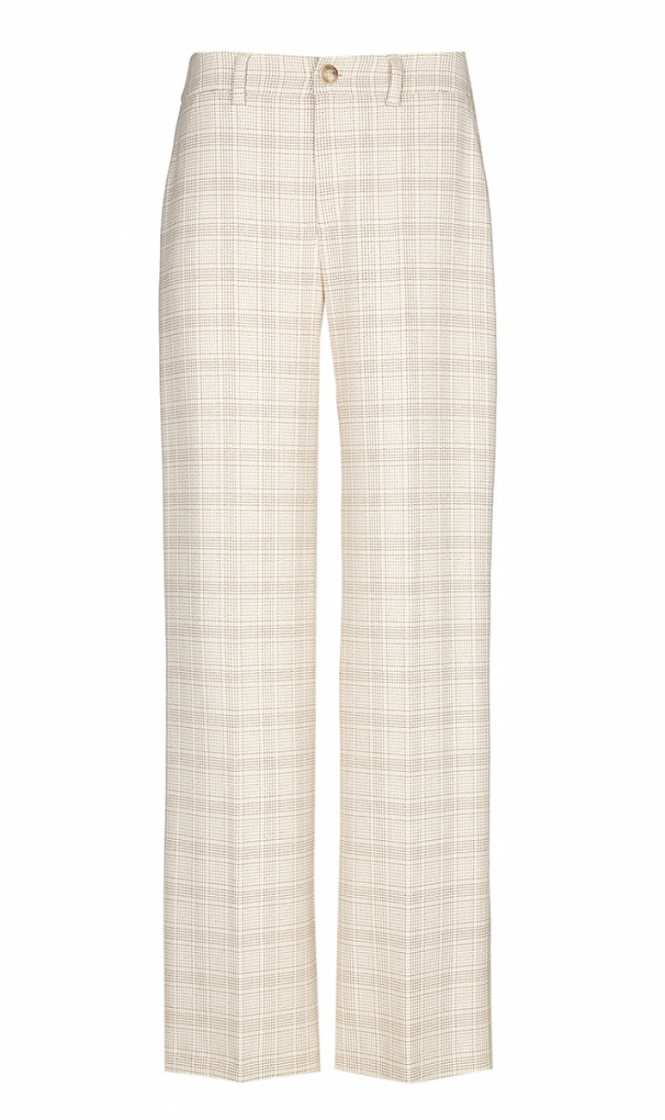 Xandres
xandres

Details
Menenstraat 32
B-8900 Ieper
webshop@toppio.be
Toppio
+32 57 20 07 52
www.toppio.be