Even geduld
Home
Verkennen
Over
Disclaimer
Mijn Account
Winkelmandje
Checkout
KLEDING
ACCESSOIRES
SCHOENEN
07298
AIPKE 07298 03 6975
129
129
Xandres, 07298, AIPKE 07298 03 6975, Blouse, 34,36,38,40,42,44,46,48
Details
6975 PEARL
6975 PEARL}
100.0% viscose (=rayon)
100.0% viscose
100.0% viscose
WA07
Lichte blouse in soepele viscose met halflange wijde mouwen. De mouwen verdoezelen bredere bovenarmen en ogen uiterst elegant. De blouse heeft een ronde hals en wijde pasvorm. De speelse bruine bollenprint springt in het oog. Combineer de blouse elegant met een bruine geruite broek.
Blouse légère confectionnée dans une viscose souple et dotée de larges manche mi-longues. Les manches, extrêmement élégantes, dissimulent les bras un peu ronds. La blouse arbore une encolure ronde et une coupe ample. L'imprimé ludique à pois bruns ne passe pas inaperçu. Portez cette blouse avec un pantalon marron à carreaux pour créer un ensemble élégant.
A light blouse in a soft viscose with wide, mid-length sleeves. The elegant sleeves conceal larger upper arms. The blouse has a round neck and a wide fit. The playful spotted print catches the eye. The blouse is elegant paired with brown checked trousers.
Bruine blouse met halflange mouwen
Blouse marron à manches mi-longues
Brown blouse with mid-length sleeves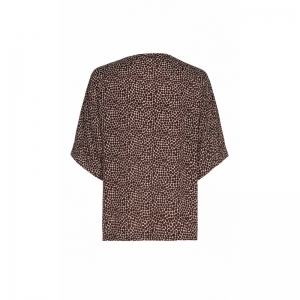 Xandres
xandres

Details
Menenstraat 32
B-8900 Ieper
webshop@toppio.be
Toppio
+32 57 20 07 52
www.toppio.be