Even geduld
Home
Verkennen
Over
Disclaimer
Mijn Account
Winkelmandje
Checkout
KLEDING
ACCESSOIRES
SCHOENEN
98367
ANELIA 98367 01 7806
129
129
Xandres, 98367, ANELIA 98367 01 7806, Pull, XS,S,M,L,XL
Details
7806 MOSS
7806 MOSS}
8.0% mohair, 42.0% acryl, 30.0% polyamide/nylon, 20.0% wol
8.0% mohair, 42.0% acrylique, 30.0% polyamide/nylon, 20.0% laine
8.0% mohair, 42.0% acrylic, 30.0% polyamide/nylon, 20.0% wool
100051
Wintertrui in een harige wolmix met o.m. mohair. De trui heeft een brede ronde hals en pofmouwen. Het strepenmotief in groen, grijs en ecru kan je elegant combineren met een A-lijn rok met paisleyprint in kaki tinten.
Pull d'hiver confectionné dans un mélange de laines poilues contenant notamment du mohair. Ce pull est doté d'une large encolure ronde et de manches bouffantes. Le motif à rayures qui allie du vert, du gris et de l'écru se combinera élégamment avec une jupe à ligne A agrémentée d'un imprimé paisley dans des tons kaki.
Winter pullover in a hairy wool blend with mohair. The jumper has a round neck and puff sleeves. The green, grey and ecru stripes look elegant with an A-line skirt with paisley print in khaki tones.
Wollen trui in kaki, groen, ecru en grijs
Pull en laine dans des tons kaki, vert, écru et gris
Woollen jumper in green, ecru and grey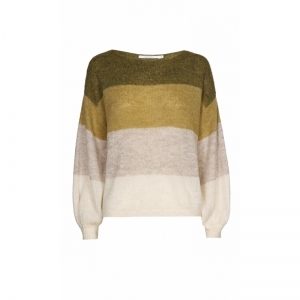 Xandres
xandres

Details
Menenstraat 32
B-8900 Ieper
webshop@toppio.be
Toppio
+32 57 20 07 52
www.toppio.be