Even geduld
Home
Verkennen
Over
Disclaimer
Mijn Account
Winkelmandje
Checkout
KLEDING
ACCESSOIRES
SCHOENEN
01769
BOWYN 01769 01 2790
239
239
Xandres, 01769, BOWYN 01769 01 2790, Blazer, 34,36,38,40,42,44,46,48
Details
2790 WINE
2790 WINE}
100.0% polyester
100.0% polyester
100.0% polyester
100106
Stijlvolle blazer in een donkere wijnrode tint. De jas heeft een flatterende, getailleerde pasvorm en sluit met één knoop. De mooie afwerking aan de binnenzijde van de blazer is op en top Xandres: verfijnd tot in de details. Combineer de bordeaux blazer met een bordeaux broek tot een elegant broekpak.
Élégant blazer dans un ton lie-de-vin foncé Cette veste arbore une coupe cintrée qui flatte la silhouette et elle se ferme à l'aide d'un bouton. La belle finition à l'intérieur du blazer reflète le plus pur style Xandres : l'élégance jusque dans les moindres détails. Portez ce blazer bordeaux avec un pantalon bordeaux pour créer un élégant tailleur pantalon.
Stylish blazer in a dark wine red hue. The jacket has a flattering, tailored fit and closes with a single button. The beautiful finish on the inside of the blazer is typical of Xandres: refined down to the last detail. Wear the burgundy blazer with burgundy trousers for an elegant trouser suit.
Bordeaux blazer
Blazer bordeaux
Burgundy blazer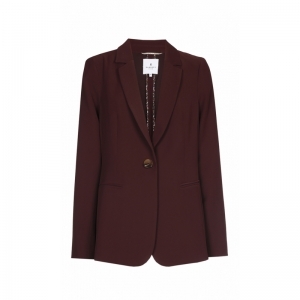 Xandres
xandres

Details
Menenstraat 32
B-8900 Ieper
webshop@toppio.be
Toppio
+32 57 20 07 52
www.toppio.be