Even geduld
Home
Verkennen
Over
Disclaimer
Mijn Account
Winkelmandje
Checkout
KLEDING
ACCESSOIRES
SCHOENEN
07329
LALLIYAN 07329 01 7806
219
219
Xandres, 07329, LALLIYAN 07329 01 7806, Kleed, 34,36,38,40,42,44,46,48
Details
7806 MOSS
7806 MOSS}
97.0% viscose (=rayon), 3.0% elastaan
97.0% viscose, 3.0% elasthanne
97.0% viscose, 3.0% elastane
WA07
Recht, halflang kleedje in een soepele viscose stretchstof. De jurk heeft een ronde hals en wijde 3/4 mouwen met een elegant splitje aan de boorden. Wil je je taille accentueren? Dan draag je de losse jurk met het bijpassende striklint. Combineer de jurk stylish met een kaki pull of cardigan.
Robe droite mi-longue confectionnée dans une viscose souple et extensible. La robe est dotée d'un col rond et d'amples manches trois quarts dont le bord est rehaussé d'une élégante échancrure. Vous voulez mettre votre taille en valeur ? Portez cette robe ample avec le ruban à nouer assorti. Combinez la robe avec un pull ou un cardigan kaki pour créer un ensemble élégant.
Straight dress to below the knee in a soft viscose stretch fabric. The dress has a round neck and wide 3/4 sleeves with an elegant slit at the cuffs. Wear the matching ribbon tie to accentuate your waistline. A khaki pullover or cardigan looks stylish with the dress.
Beige jurk met kaki print
Robe beige avec imprimé kaki
Beige dress with khaki print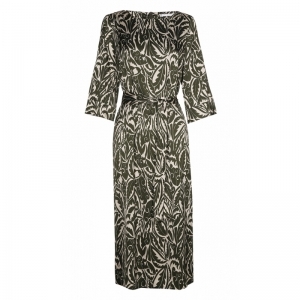 Xandres
xandres

Details
Menenstraat 32
B-8900 Ieper
webshop@toppio.be
Toppio
+32 57 20 07 52
www.toppio.be